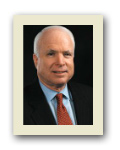 McCain såg ut att räddas ur den skandal som var på lut för två dygn sedan genom NY Times artikel om hans kopplingar till lobbyister. Republikanerna slöt upp bakom honom och samlade in rekordmycket pengar till hans kampanj. Men nu har Washington Times mer att berätta om McCains kopplingar till lobbyister:
[W]hen McCain huddled with his closest advisers at his rustic Arizona cabin last weekend to map out his presidential campaign, virtually every one was part of the Washington lobbying culture he has long decried. His campaign manager, Rick Davis, co-founded a lobbying firm whose clients have included Verizon and SBC Telecommunications. His chief political adviser, Charles R. Black Jr., is chairman of one of Washington's lobbying powerhouses, BKSH and Associates, which has represented AT&T, Alcoa, JP Morgan and U.S. Airways.

Senior advisers Steve Schmidt and Mark McKinnon work for firms that have lobbied for Land O Lakes, the UST Public Affairs, Dell and Fannie Mae. […]

In McCain's case, the fact that lobbyists are essentially running his presidential campaign — most of them as volunteers — seems to some people to be at odds with his anti-lobbying rhetoric. "He has a closer relationship with lobbyists than he lets on," said Melanie Sloan of Citizens for Responsibility and Ethics in Washington. "The problem for McCain being so closely associated with lobbyists is that he's the candidate most closely associated with attacking lobbyists."

Public Citizen, a group that monitors campaign fundraising, has found that McCain had more bundlers — people who gather checks from networks of friends and associates — from the lobbying community than any other presidential candidate from either party.
McCains attraktion bland oberoende väljare ligger mycket i att han setts som en förkämpe för etikreformer och bekämpande av lobbyister. Frågan är hur det här påverkar dessa för honom så viktiga väljare?
[tags]usa, usa-valet, john mccain[/tags]